Many people have been telling me that I simply have to visit
The Remnant Warehouse
. It all started a few years ago when my friend and her boy used to shop there for fabric to have clothing tailored for them (so fancy!). More recently at the quilting group I would admire members fabrics only to be repeatedly told that they were purchased from The Remnant Warehouse. It was only going to be a matter of time. On Saturday I dragged Jamie to Alexandria to check this place out for myself.
Words can't describe what greeted me when I walked into the store. I felt like I had walked into some kind of sewers utopia. Walls of quilting fabric. Piles of dressmaking fabric. And hundreds of embellishments, supplies and tools. I didn't know where to start.
Jamie reminded me of the purpose of our trip:
1) Buy fabric for a jacket.
2) Buy cheap calico for practicing patterns.
3) Linen for his mum.
There was a large table to the left of the door as you walked inside the shop. On it (and under it) were piles of folded and discounted off-cuts of dressmaking fabric. I searched the pile to find something to make a jacket with and came across a hounds tooth print fabric that I thought would be perfect to make a coat from. It is a wool blend, so not the expensive stuff, but I thought it would be perfect for my first coat project. And seeing as it is only Spring time here, there will be no pressure of time to rush this project.
Here is a picture of the coat I want to make, but with a few minor changes to the pattern. The pattern Talea and is a Burda Style pattern. If you like it, you can download yourself a copy of the pattern
free
from
here
.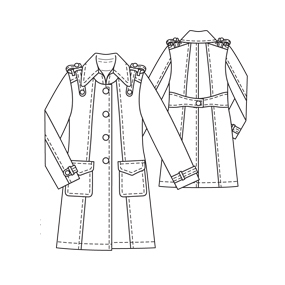 Now I just have to find the perfect lining fabric...
All of these fabrics available at Shaukat.
Too many choices. I think I may need to make more than one coat. But first I need to learn how to line a garment!
Sam xox